Rain again this morning … So it's a slow and late start for me, lingering over a bowl of café con leche in the albergue restaurant and munching on toast with jam for breakfast. One part of me is reluctant to go into the rain, another is looking forward to the walk along the canal to Frómista. Who cares about wet feet when you get to wander alongside the water, chatting to nice people from so many different countries and walks of life?
The sun will be shining by the time I settle down to the mandatory second breakfast in Frómista, finding a spare seat in the melée of pilgrims queueing for tortillas and cafés and softdrinks. At most tables people are talking about whether to go all the way to Carrión or stop before it, checking how many beds are available and in some cases calling ahead to reserve. I am in several minds; I'd like to stop before Carrión, but then again tomorrow there is that 17 km stretch with no accommodation or even a café/bar, which would be nice to do on fresh legs … I decide to just keep walking and see what happens.
I crunch, crunch, crunch my way along the senda towards my next planned stop – the albergue Amenecer with its donkeys, goats, geese, tipis and huts and offer of food and drink for thirsty and tired pilgrims.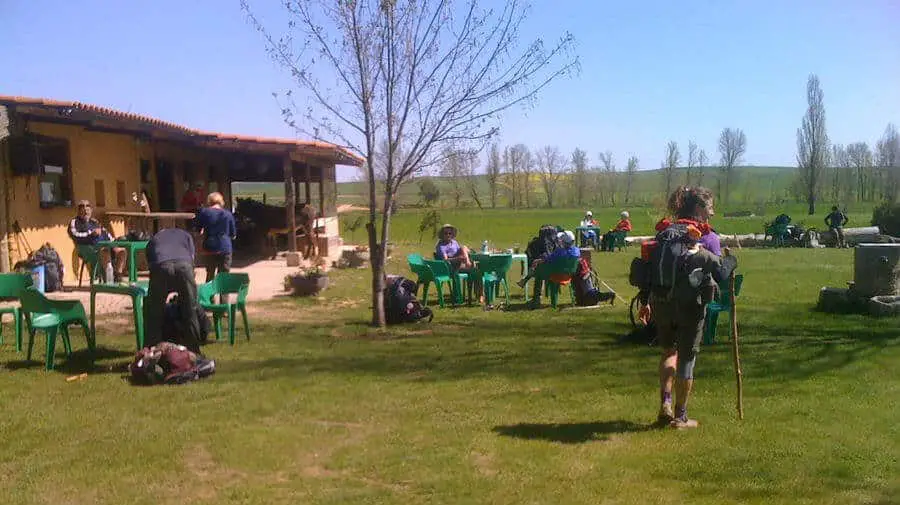 After a good long chat and a bit of pilgrim and animal watching, I hit the road again for another stretch of senda crunching. Some call it mind-numbing, I call it meditative – as soon as your footsteps are in tune with your breathing, you can go on and on without even thinking about what your legs are doing, as if your mind was a passenger on a ship slowly, but surely sailing towards the goal. There is nothing much to see either, so your thoughts will have to find something else to focus on. As long as the weather holds up, I am actually enjoying it!
The next stop is at Vilalcazar, where there is a rather tempting hotel room available (after I had to cancel it IRL …), but I have ended up in a loosely knit group of solo pilgrims of all ages and am enjoying drifting along with them across the plains. Half of us stop for a drink and a loo break, while the rest press on towards Carrión de los Condes to try to get into the muni there. Hopefully they will report back on bed availability so we don't have to rush. It's getting hot now, so the sunhat is earning its keep yet again, and I have even wet my hair underneath to cool down a bit. When we finally roll into the Plaza Mayor and seek refuge in the shade under the cloisters, the faster walkers are waiting and tell us they have saved us beds. What relief! No hurry now, so we stay a while and have some well earned drinks and snacks – Lays Campesiña crisps, anyone? – before we slowly drag ourselves showerward.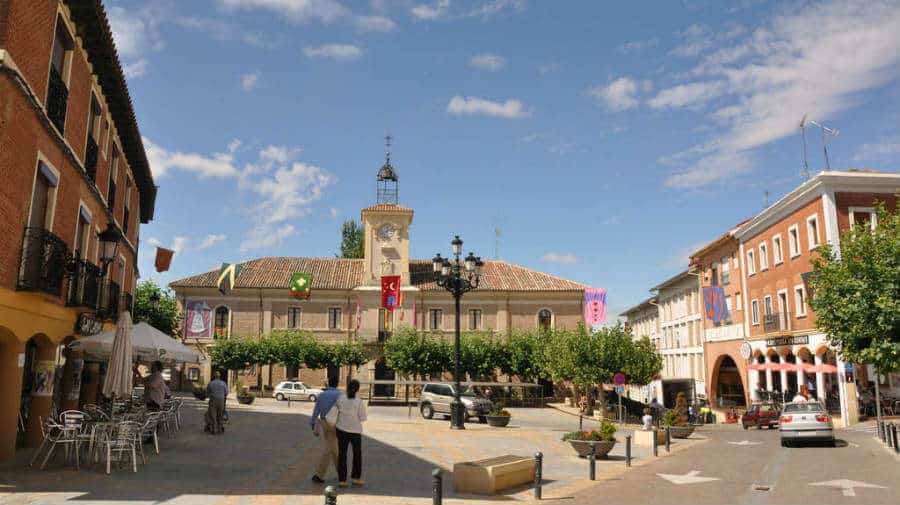 This time, after shower, laundry and general pampering and pack organising, I go with the others to the shop to get some fruit, snacks and Aquarius for tomorrow's 17 km stretch. Some of the first time walkers are worried about it, as it looks like it will be a hot day, but the rest of us assure them that as long as you have chocolate, a banana, a soft or sugary drink and lots of water, it will fly by. We don't dwell on the man in the van with the barbecue about half way, in case he isn't there. Best not get our hopes up – preparation is the key, if he's there, it's a bonus.
After taking our shopping back to the albergue, we head out to the river to have a cooling dip before dinner. Not everybody has brought swimming gear, but boxers, merino undies and sports bras do the trick and dry quickly in the heat. The refreshing water is worth getting hot and dusty for, and some in the group have already made a note of all the albergues with pools …
In places like Carrión there are lots of places to eat, so I leave it to someone else to decide where to go. Nearest the albergue it is!
The pilgrim menu will be more or less the same anywhere – soup, salad and pasta for starter, chicken, pork or beef for main and icecream, cake or yogurt for dessert. Vegetarian options normally available, and fish on occasion. Salad, chicken and lemon yogurt is as good as it's going to get in my book, and when the wine keeps flowing as well, a good meal is had by all. It's the stories that count – stories of great laughs and hard lessons, of grief and grace and glory, of struggles and celebrations. Someone is cheering at another table, someone is laughing with tears in their eyes, someone is a bit unsteady on their feet as they leave. All are glowing with sun and wine as the conversation turns to the most important thing of all: How to avoid blisters on the hot 17 km walk tomorrow. Vaseline, talcum powder or paper tape? Sandals, maybe? We will have to compare notes when we sit down for a cold drink in Calzadilla. And so we move giggling across the road to our beds, and as the lights go out at ten we all start drifting off, hoping for a cloudy and blister free walk.